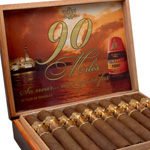 90 MILES BY FLOR DE GONZALEZ cigars are one of the most sought after premium cigar brands money can buy. These fine cigars can be conveniently purchased online and shipped directly to your door.
90 Miles is the travel distance between the southern part of Florida to Havana, Cuba. These special cigars are deemed the top notch editions from the people at Flor De Gonzalez. This cigar features a Nicaraguan extra-fermented longfiller core rolled in red tone Ecuadorian Habano wrappers. The cigar offers a flavorful medium-bodied smoke that begins with sweet spice notes, then turns to a creamy, earthy flavors of cedar wood and pepper. The cigars burn evenly to the end. A fantastic cigar made with a lot of heart and passion.
There are no products matching the selection.
FREE
SHIPPING
on cigar accessory
orders over $75


.
Money Back Guarantee
Fantastic Prices
No Sales Tax (Except FL)
Lowest Price Guarantee
Huge Selection
Exceptional Service
Personalized Engraving
We accept