Most Popular - Best Cigars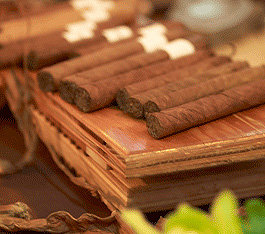 Top 10 Cigar Brands
Growing, harvesting, hand curing, fermenting and rolling of tobacco into a fine cigar is an art. Although there are a number of exceptional premium cigar brands on the market, choosing the right one isn't easy. Over the years we have been asked by many of our customers to provide them with suggestions on some of our best selling most popular cigars. In response, we assembled a list of our most popular cigar lines voted by our customers.
A number of factors including flavor, body, filler, wrapper, draw, burn consistency, & overall smoking experience were taken into consideration when compiling our top 10 list.

1) Macanudo - Macanudo cigars are manufactured in the city of Santiago in the Dominican Republic. The Macanudo line of cigars use a mild Dominican filler blend, a unique binder originated from the Tuxtla Valley of Mexico, and a premium grade Connecticut shade wrapper. Macanudo always deliver a distinctively smooth and mellow taste that is consistent from cigar to cigar.
2) Arturo Fuente - Master cigar makers Carlos Fuente Sr. and Jr. are known as the masters of the cigar craft. These hand-made Dominican cigars are of impeccable quality. Fuente's traditional blend "Gran Reserva" carries a mild-to-medium body coupled with a delicate spice and nutty core. Arturo Fuente cigars are deemed one of the most consistent hand made cigars in the world.
3) H. Upmann - For over 150 years, H. Upmann has been enjoyed by cigar connoisseurs world wide. This hand-crafted smooth, rich cigar has roots from La Romana, Dominican Republic. Its a consistency and flawless construction combined with its distinct nutty flavor has been a trademark recognized by many for years.
4) Ashton - Made in the Dominican Republic by the hand of Tabacalera A. Fuente, Ashton cigars offer an impeccably rolled cigar that is always consistent from box to box. Three styles are offered which include (Aged Maduro, Aged Cabinet and Traditional). This popular brand offers a wide variety of mild-to-medium rich flavors that satisfy the most discriminating smoker.
5) Partagas - A perfect cigar in every way. Partagas is one of the finest crafted cigars available in the USA. The Piloto Cubano blend boasts a flavors of wood and coffee and carries a medium body. Finished in African Cameroon wrapper, the Partagas line of cigars have a distinct spicy note thats is smooth and full of flavor.
6) CAO - One of the most popular, family owned and operated lines in cigar industry today. CAO is comprised of a diversified selection of blends for the cigar aficionado.
7) Cohiba - An expensive ultra-premium cigar finished with a toothy African Cameroon wrapper. The Cohiba line of hand-made cigars are flavorful and smooth from the first draw to the last.
8) Montecristo - The meticulous handmade construction of the Montecristo cigar has made itself a legendary name in Cuba. Menendez y Garcia factory in the Dominican Republic have crafted a fine slow burning cigar loaded with rich, complex flavors. This flawless cigar is savored by the most discriminating cigar enthusiast.
9) Romeo y Julieta - An excellent smooth aromatic cigar with a medium-bodied blend. Slightly sweet with flavors of oak and coffee. If you haven't smoked a Romeo y Julieta cigar recently, we feel you should really make an effort in doing so.
10) El Rey de Mundo - A delectable symphony of Honduran flavors, impeccable construction, slow burn and draw. The enchantingly complex blend of the worlds finest tobaccos make this cigar line arguably one of the best made in the world today. A "must try" cigar for all cigar lovers!