Machine Made Cigars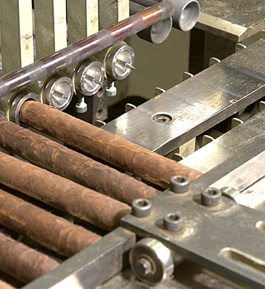 Large Variety of Machine Made Cigars at Fantastic Prices
In simple form, machine made cigars are created from bundles of tobacco that are rolled into tubular shapes. These tobacco bundles are called filler. The filler is then held together by a binder which is then covered with a wrapper to complete the finished cigar. The process in creating a machine made cigar is completely automated. From picking the leaves and grinding up the tobacco, to rolling and finishing the cigar, all of these steps are completed by machine.
Huge Selection of Brand Name Cigars
There are numerous good quality machine made cigars available on the market today. We offer a large selection of Dutch Master, Phillies, Swisher, Al Capone, King Edward, and more. If you have trouble locating the cigar you are looking for, please feel free to contact us.
Machine Made Brands