Handmade Cigars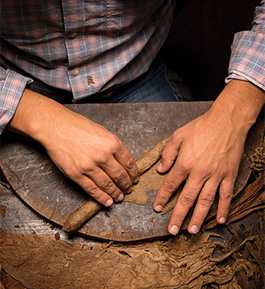 Enjoy the Distinct Flavor of an Aged Handmade Cigar
Growing tobacco is an art. Anyone experienced with cultivating high-quality tobacco will tell you that tobacco is "gardened" and not "farmed". Within every tobacco plant there are as many as 300,000 tobacco seeds which must be carefully handled to preserve their flavor. The seeds are then planted within rich soil seedbeds and are exposed to optimal climate to enhance the taste and aroma of the new tobacco. Once the plants have grown, the tobacco can be harvested. The tobacco is then hand cured, fermented and crafted into a fine cigar.
Cigars Rolled by Hand Using the Highest Standards
We offer worldwide delivery on an enormous selection of handmade cigars, including a full range of Cohiba, Macanudo, Partagas, MonteCristo, Padron, Punch, Romeo y Julieta, Arturo Fuente, Assorted Sampler Packs and more. If you cant find the cigar you are looking for, please feel free to contact us.
Handmade Brands