ROMEO Y JULIETA RESERVA REAL
SHORT BELICOSO

Product Code: JUSBRR
Since their release in 1875, Romeo y Julieta has proven to be one of the most choice brands of cigars made and often requested names by cigar connoisseurs. The Reserva Real cigar is a carefully blended recipe of Dominican spiced tobacco leaves with Nicaraguan ligeros finished off with a hand picked blonde Connecticut Shade wrapper, cultivated in the fields of Ecuador. With a slightly sweet taste, it is an well crafted handmade cigar with a tender aroma and woodsy flavor.
Origin:
Dominican Republic
Strength:
Medium
Wrapper Type:
Ecuador Connecticut
Wrapper Color:
Medium Brown EMS
Binder:
Nicaragua
Ring Gauge:
60
Filler
Dominican RepublicNicaragua
Length:
4
Packaging:
Box of 21
Retail:
$ 164.22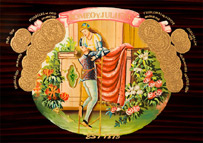 Abbreviation Key:


BRA = Brazil
CAM = Cameroon
CBCS = Caribbean Basin Cuban Seed
CI = Canary Island
COL = Colombia
CRJ = Cuban Corojo
CR = Costa Rica
CT = Connecticut
CTBL = Connecticut Broadleaf
CTMT = Connecticut Medio Tiempo
CTSH = Connecticut Shade
DR = Dominican Republic
ECCT = Ecuador Connecticut
ECSU = Ecuador Sumatran
EUR = Europe


H2000 = Habana 2000
H98C = Havana 98 Criollo
HMGT = Homogenized Tobacco Leaf
HON = Honduras
HONMT = Honduras Medio Tiempo
IND = Indonesian
ITA = Italian Habano Seed
JAM = Jamaica
MEX = Mexico
NTL = Natural Tobacco Leaf
NIC = Nicaragua
PENN = Pennsylvania
PR = Puerto Rico
SUM = Sumatra
VAR = Various
Wrapper Color Key:

Dbl. Claro (C) = Candela, Double Claro, Jade, Light Green, AMS
EMS (E) = English Market Selection, Colorado, Medium Brown, EMS
Natural (N) = Natural, Shade Grown, Claro, Light Brown
Maduro (M) = Maduro, Colorado Maduro, Dark Brown, SMS
Oscuro (X) = Oscuro, Double Maduro, Very Dark Brown, Black
1st Class Cigars provides wholesale pricing on some of the finest ROMEO Y JULIETA RESERVA REAL SHORT BELICOSO and premium cigars available today. If you have any questions, please feel free to contact us.
Cigar prices are subject to change
Phone & Online Orders Accepted
With Major Credit Cards

We also accept Checks or Money Orders
(Toll Free order line)
(888) 396-6838
(954) 975-2499
(954) 975-2840 (Order by Fax)


511 East Sample Road
Pompano Beach, FL 33064
(888) 396-6838
E-mail: sales@cigarhumidors-online.com
Web site: www.cigarhumidors-online.com
Site Index: Humidors | Discount Humidors | Cigar Cabinets | Discount Cigars | Cigar Accessories
Handmade Cigars | Machine Made Cigars | Super Premium Cigars | Best Cigars | Cigar Samplers | Dominican Cigars


Copyright © 2012, 1st Class Cigar Humidors, All rights reserved.
If you printed this page, you can find it again at
http://www.cigarhumidors-online.com